Our Blogs
Top 10 Cool Gadgets for Dad
Jun 11, 2020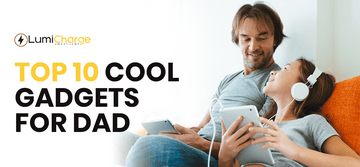 If you are one of those people with a tech-savvy dad, finding the perfect gift for him can be tough. This can be even harder if you are not one to keep up with the latest gadgets on the market. Father's Day is just around the corner, and we've picked out 10 cool gadgets for your dad. Check them out below.
Noise Cancelling Headphones (Sony WH-1000XM3)
The Sony WH-1000XM3 noise-canceling headphones can easily block noises like engines, car noises, and other noises around the house. They are sleek, stylish, comfortable, and they sound great. They also come with a smart touch surface on the ear cup for easy control. 
Apple Watch Series 5
The Apple Watch Series 5 is the latest in the series of Apple watches. This version supports always-on display, so you are able to view the time without making big motions. It also integrates smoothly with other Apple products and offers great fitness tracking.
Apple iPad
The latest Apple iPad offers a huge 10.2-inch display screen, perfect for games or watching movies. As with any Apple product, it comes with a sleek design and in several colors. On top of that, it has Apple's extremely powerful A10 Fusion chip.
     4. The Lumicharge LED desk lamp
Does your dad have a home office? Or perhaps he's needing better lighting for his desk. The Lumicharge carries a variety of LED desk lamps with many useful features. For example, the LumiCharge - T2W, the LumiCharge-LD, and the SonicCharge. These LED lamps come with a variety of additional features, including wireless phone chargers and wireless speakers.
Father's Day is just around the corner, so now's the time to start picking out the perfect gadget for him. Visit our website for more options for the perfect gift for your dad, and get a 30% storewide discount. 
Discount: 30% storewide discount
Code: HOMEOFFICE30
     5. Vinyl Player (Audio Technica AT-LP120-USB)
If your dad is a lover of music, then this is a great gift idea. The player has three speeds, making it perfect for music enthusiasts, and it has a USB port, in case your dad wants to digitize his music.
     6. Marshall Stockwell II Speaker
This Bluetooth speaker is tiny and portable, but extremely powerful. It comes with dedicated volume control and the ability to change the bass and treble. Its classic appearance resembles a classic Marshall amp paired with a carrying strap.
     7. AirPods Pro
These true wireless earbuds have a comfortable design with silicone tips that won't fall out of your ears. This allows you to listen for long periods without discomfort. They come with active noise canceling properties and high-quality sound.

     8. Amazon Echo 3rd Gen Smart Speaker
If your dad is hoping for a smart speaker, then this is the one for him. It has full access to the Alexa ecosystem, including smart home control and streaming from hundreds of sources.
     9. Belkin Boost Up Charging Dock
If you're going to be getting an Apple watch and an Apple iPad, then this charging dock is a no brainer. It charges your Apple products with built-in ports and pads and has a USB port to charge an additional item. 
     10. DJI Mavic Mini Drone
Perhaps your dad is itching to get his hands on a drone for the first time. The DJI Mavic Mini Drone is the perfect starter drone for him. It is not intimidating and is perfect for the novice flyer.