Our Blogs
5 tips to save your smartphone's battery life
Jun 04, 2020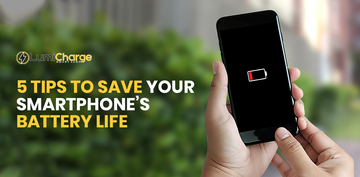 If you're like most smartphone users, your smartphone dying on you is probably one of your worst nightmares. For many of us, our smartphones are essential. We spend a lot of time on them every single day and some of us even use them for work. 
So in this article, we're going to share our top 5 tips for saving your smartphone's battery life.  
1 - Disable automatic wifi
Whether you're using an Android device or an iPhone, disabling automatic wifi is hands down one of the easiest ways to save on battery life.
2 - Turn off the personal hotspot
Leaving your personal hotspot enabled can also significantly drain your battery life so it's a good idea to turn off this feature if you are not sharing your data with another device.
3 - Stop non-essential apps from running in the background
Apps running in the background is another way your phone battery gets consumed. While there are some apps that will be essential at all times there are others that you do not need running in the background. It's a good idea to disable these apps to save on battery life.
 4 - Turn Bluetooth off
Bluetooth is one of those handy wireless features that can be very useful to connect our earbuds, headsets, speakers, and other devices. But it also consumes a lot of battery. So be sure to turn off Bluetooth on your smartphone when the feature is not being used.
5 - Adjust auto-lock/sleep
The auto-lock or sleep feature on your smartphone allows you to set how long your phone will wait before the screen locks after a period of inactivity. The options typically range from 15 seconds up to 30 minutes but to save on your battery life it's a good idea to reduce this time to the lowest possible - 15 seconds.
Of course, with our flagship charging devices, you can always keep your smartphone charged conveniently. And for a limited time, you can enjoy a 30% storewide discount with coupon code HOMEOFFICE30.
LumiCharge LD
The LumiCharge LD combines the convenience of a desk lamp, Bluetooth speaker, wireless phone charger, and voice control (through Alexa or Google Assistant) all in one convenient gadget that's gorgeous to look at.
LumiCharge T2W
The LumiCharge T2W combines sleek modern design elements with function and beauty. With this desk lamp, you can charge your phone wire-free with our universal phone charging dock while enjoying music or another programming on the built-in Bluetooth speaker. 
Don't forget to use discount code HOMEOFFICE30 to secure 30% OFF storewide!