Our Blogs
Some Helpful Ways to Improve Your Punctuality
Dec 29, 2020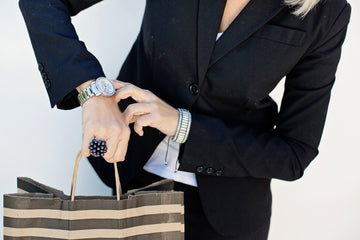 If you want to be productive, the first thing you must do is create tangible goals and meet deadlines. In order to stay on track and accomplish your long to-do list, it's important to manage your time wisely. Of course, this is easier said than done for soem people, but it's absolutely essential if you want to prioritize timeliness and maximize your productivity. If you tend to show up late for work, or miss a meeting because you lost track of time, it's time to improve your punctuality. Here are some helpful ways to be punctual when it matters most:
Plan Ahead
One of the simplest things you can do is get prepared for the next day by planning ahead. The night before a busy day, you can make your life easier by preparing a lunch, selecting a business outfit, and charging all your devices. This will eliminate any wasted time the next morning, helping you get out of the house much quicker. If you often forget to bring a lunch or snacks, this can help you avoid a grumbling tummy.
If you're the type of person who frantically searches through the laundry in the morning in order to find the right attire to take on the day, we suggest doing your laundry the night before to avoid being late. Now, you may be able to pack that lunch and pick out that outfit, but did you remember to fill up your gas tank to reach your destinations? We all like to think, "Ah, I will just get gas on the way out in the morning." But, if you're running late and can't afford to stop by the pump, you may not have enough fuel to make it to your meetings. Avoid the chaos and stress by guaranteeing that your tank is full enough for the next day.
Set Multiple Alarms
We all have slept through an alarm once or twice in our lives. However, if this is a regular thing that keeps happening to you, it's time to set multiple alarms with different ringtones. Snoozing alarms is one of the main culprits for your tardiness. To avoid sleeping through your alarm, be sure to set 3 to 5 alarms with 10 minute intervals to prevent you from oversleeping. Make sure that each alarm has a different ringtone, because if it's a familiar sound you make drift back off into slumber and imagine yourself getting up for the day. Say bye-bye to being late for work or an appointment by setting multiple alarms to wake up on time!
Keep Track of Date & Time with LumiCharge
Part of being punctual is constantly checking the time. If you usually get carried away with assignments or tasks, and don't check your phone or watch to know what time it is, you should think about adding a smart lamp to your space.
Over at LumiCharge, our LumiCharge II All-In-One Desk Lamp displays the time, date, day of the week, and the temperature so that you can remain punctual and informed throughout the day!
What are you waiting for? It's time to add the best LED Desk Lamp with a Dock Charger in the market to your routine!