Our Blogs
Light Tech that will power you at Work or Home
Feb 11, 2019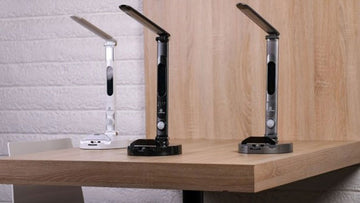 On February 11th, National Inventorsday, we honour the great thinkers, past and present. With a total of 1,093 U.S. patents, Thomas Edison was widely known as the America's most prolific inventor. Edison was credited with the first public demonstration of the Incandescent light bulb in 1879.
The Evolution of the Lighting Technology
As you can well imagine, lighting technology has dramatically changed in the last 140 years. LumiCharge II is an innovative product that takes lamp technology to the next level.  However, even Edison would not have visioned that a simple lamp could provide power to other consumer devices.
LumiCharge II is a multifunctional sleek LED lamp that includes a patented universal cell phone charging dock. Whether Android or iOS or any other phone. Users can leverage the multi power charging system which is also compatible with the iPhone iWatch.
The LumiCharge II also comes with multiple brightness and light colour options including white, soft white, soft yellow. The LED head has a wide angle of rotation. On the vertical fully dimmable display you can view date, time, temperature and other programmable information. The lamp also has a built in night light with motion sensor.
Availability
Whether at home, work or at school, the LumiCharge II is the perfect solution for those looking for a functional LED desk lamp.  The LumiCharge II will launch on Indiegogo in March 2019 and the first batch of shipments is anticipated to arrive in June 2019.
Features and Specifications
Colors: Silver, Black, Grey
Light:

Type: LED Lamp
Colors: White, Soft White, Soft Yellow

Power: 10W Wireless Charging Doc, compatible with Qi devices
Compatibility:

iPhone, Android, Samsung, Google Pixel, Micro USB, Type-C phones

Features:

Night Light
Dimmable display
Motion Sensor
Additional USB port at the back
Multiple brightness options
Wireless Charging
Smart watch attachment
Programmed daylight savings
For more information or to acquire the: LumiCharge II
About the LumiCharge
The LumiCharge team is comprised of experienced Design and Manufacturing Engineers who bring over 20 years of manufacturing experience to the table. The end result is the ultimate LED desk lamp that just keeps getting better and better. Perfect for use in offices, bedrooms, or work areas, the LumiCharge II will include a universal phone charger with wireless capabilities, one extra USB port, a dimmable light with three color modes, a built-in motion sensor light, wireless charging, a smart watch attachment, and more.