Our Blogs
This Portable LED Smart Lamp Will Be Your New Favorite Study Accessory
Feb 13, 2019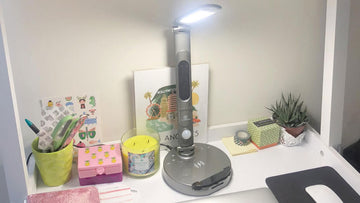 While it's admirable to be an avid studier or someone who is work-obsessed, it can also be an inconvenience—for you, and for those around you.
You need a solid amount of light to work and/or study, and, being the thoughtful person you are, the last thing you want to do is disturb others. Also, what if your workspace is being invaded by someone else when you need it?
While I do have a regular office on weekdays, oftentimes, I like to take care of additional tasks from home at night or on weekends. And when someone from LumiCharge reached out about potentially reviewing their soon-to-be-released LumiCharge II—an LED Smart Lamp that's described as the perfect tool to keep on any desk in my apartment—I was instantly intrigued.
The Product
When my LumiCharge II arrived, I was initially nervous. It came in a relatively big box, and at first glance, looked a bit clunky. Sure enough, once I took it out, I found a sleek piece of technology and an accompanying (somewhat large) battery and plug-in.
To my surprise, once everything was plugged in, the smart lamp was ready to go without anything additional to assemble. I made a nice little space for it on my desk, and was ready to put this bad boy to work.
Experience
I was impressed with how instantaneously the smart lamp lit up with the current temperature, date, time and day. The light is also incredibly user-friendly. As soon as I spotted the Smart LED Display, I figured out how to adjust the lighting (there are three hues and 10 brightness levels). Just below the display is a circular knob you can scroll to find the charger that fits your phone or other electronic device that needs some extra juice. The head of the lamp is also adjustable, so you can move it around to where you need more light.
Based on the way my apartment is set up, my main living room lamp is next to my desk, so I already have light coming from that direction. That said, I don't always enjoy a whole lot of brightness, so a dimmer option is certainly a plus—one that I can find in this product.
Additionally, my desk is fairly small, made to basically just fit the main essentials: laptop, mousepad, notebooks and a few decor items—so the lamp felt a wee bit squished into the mix, but it did still fit without an issue.
I think for me personally, this will get the most use on-the-go. While the clunkiness of the battery will take up a little extra space in whatever I'm packing, this product could be great for travel (as long as an outlet is nearby). Being able to read or work on a dark plane, or needing a little light when sharing a hotel room with someone sleeping, makes this lamp a handy option.