Our Blogs
Top 10 Must-have Back-to-college gadgets for students:
Jul 16, 2021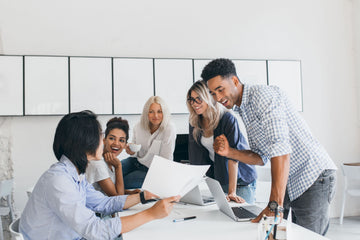 1. LumiCharge-LD - Voice Controlled LED Lamp with Phone Dock: 
LumiCharge-LD - Voice Controlled LED Lamp with Phone Dock:
It is a smart multifunctional LED lamp with a wireless charging dock and Bluetooth speaker. LumiCharge-LD makes it easier by playing your favorite music, Voice controlled through Alexa and Google Assistant to control light functions and music once paired with a mobile app. Portable smart LED lights can be used for relaxation, travel, living room, bedroom reading, outdoor, and best gift for the student's night light. Creative and modern design makes it the best electronic gift choice on any occasion.
2. Fujifilm Instax Mini 9 Camera:
At university, there are several picture-perfect moments to be captured, and the best way to do it is with an instant film camera! You don't even need to bother with the settings; simply point and click! The Instax Mini 9 camera from Fujifilm is the most popular option, and with good reason: it creates high-quality polaroid images in only a few minutes that you can save for years.
Burglars frequently target student accommodation, so extra security measures like August's smart lock will put your mind at ease. You can control keyless entry as well as open, lock, and monitor your door from your phone. Plus, by linking your smart lock to Alexa, you can utilize voice commands!
It won't only spare you the physical discomfort of hauling 700-page textbooks if you can put all of your compulsory course reading into one compact, sleek, and extremely beautiful gadget. No, it won't only save you the emotional pain of losing out on the final copy of The History of Nouns as you smugly download the digital edition. Purchasing a Kindle will frequently save you money on the cost of books.
5. HP ENVY 5055 Portable Printer:
Although the library has printers, access may be difficult when the whole student population is meeting deadlines at the same time. Avoid the bustle by printing from the convenience of your dorm, or go out for a coffee and print from your phone.
The wireless and cloud-based compatibility of HP's ENVY 5055 means you can receive hard copies of your work no matter where you are. It can also be connected to an Alexa device, and its slim body means it won't take up much space - ideal for when it's time to move!
6. A Smartwatch for Iphone Users:
From an iPhone attachment to a fitness and health gadget, the Apple Watch has evolved over time. It not only tracks workouts and motivates users to be more active, but it also displays notifications for incoming calls, texts, and other alerts on your wrist. When you combine an Apple Watch with AirPods, you've got yourself an amazing exercise arrangement.
7. Moleskin Pen+ Ellipse Smart Pen:
Check out the Moleskin Pen+ Ellipse if you prefer to write on a variety of paper types. This smart pen is clever. It uses Ncoded paper technology, which allows the pen to recognize your handwriting.
For example, it identifies the date and time as you write them.
Then it automatically syncs your notes in chronological order. The Pen+ Ellipse, astonishingly, monitors all of your strokes and updates the Moleskin Notes app in real-time. This smart pen will help you keep track of all your notes by providing limitless creative choices.
8. SOLID GRAY Lightweight Hardshell Backpack:
The days of drab canvas backpacks with stitched initials on the front are long gone. The SOLID GRAY Backpack welcomes you with flair and class.
This bag features a beautiful geometric hardshell design that is unlike any other backpack you've ever seen. The multi-faceted exterior captures the light and brings the panels to life. It's also completely customizable, allowing you to build the ideal bag for your requirements. It's also completely customizable, allowing you to build the ideal bag for your requirements. Despite its lovely appearance, this backpack is light. Furthermore, its function is only mirrored by its shape. You have complete control over the materials, choices, accessories, and colors. There's also enough storage inside for all of your books, a laptop, a tablet, and even a meal card.
9. Microsoft Surface Go Tablet:
Looking for a portable system but don't want to invest in an iPad Pro? Microsoft's Surface Go tablet is a wonderful device. It's very thin, measuring only 8.3mm thick. It also only weighs 1.5 pounds, so you can take it with you everywhere you go. Even if you're short on space, it'll fit inside any bag. Naturally, it's a complete powerhouse built to keep up with your workload. The Surface Pen is supported by the stunning PixelSense Display. In reality, it has 4096 pressure sensitivity levels. This allows you to be as exact as necessary while bringing all of your creative concepts to life. The Surface Go comes with a 10-inch display that provides enough room for work and play. 
10. Get a Reliable Mesh WI-FI System:
Rather than having a single router at home, a mesh Wi-Fi system distributes several points across the house to greatly increase Wi-Fi signal coverage while reducing dead zones.
Eero's three-pack of mesh Wi-Fi hotspots costs $250 at most, however depending on the time of year, you might be able to find them for as little as $200. These offer dependable connectivity and are easy to set up. If you don't mind spending a little extra for somewhat better performance and coverage, Google's Nest Wifi router and Point combo are generally around $250 (but it may be as low as $200). However, anyone should make a significant impact.
Going back to college after a long vacation is a fresh start to memories, a chance to explore new things with the friend circle. Pick your new gadgets for your year and step into the new beginning of your life.