Our Blogs
Getting a look at LumiCharge 2.0 at CES
Jan 11, 2019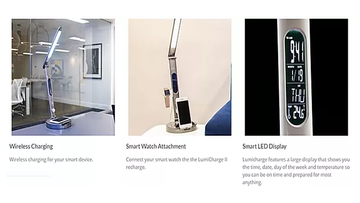 And you can reserve yours through pre-order right now for $1.
 Go here for a look at the LumiCharge 2.0.
Charge any phone or device, with a rotating selector for the type of charging connector which can be Lightning, micro USB or USB-C.  There are also two USB-A ports for charging other devices.  You also get a 10 W Qi charger.
The LED lighting portion of the system is flexible, in that you can choose from three different color temperature settings. Turn on manually, or it can be activated by an infrared motion sensor, and new in the second generation, a light sensor that will turn on the lamp when it gets dark.
Go here for more and to make your pre-order. A smartdesk lamp that does so much more.