Our Blogs
CES 2019: LumiCharge is the desk lamp that I would love to have
Jan 12, 2019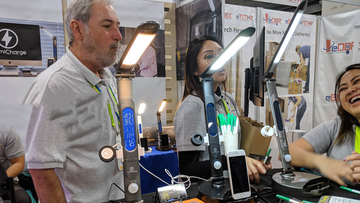 I'm not a desk lamp person and have never thought of wanting one, but after seeing the LumiCharge desk lamp at CES 2019, I think I would just love to own one for the sake of charging convenience.
The LumiCharge offers three different smartphone charging connectors on its base, which you can rotate the dial to switch to either MicroUSB, USB-C and a MFi-certified Lightning connector, it outputs up to 2A of maximum power for your phones, and there's another two USB ports at the back should you want to power more devices.
If you have a second phone that supports wireless charging, the LumiCharge has a Qi wireless charging base that supports 10W wireless fast charging.
Apart from that, there is a built-in motion sensor to detect your presence and turn on the lamp automatically, you can choose multiple brightness levels in 3 LED colours – white, soft white and soft yellow, all room-friendly lighting temperatures. For added convenience, it also has an LCD display that shows the clock and room temperature.
The LumiCharge desk lamp is now available at US$89 (RM364) over at the company's website and Amazon, the latter does ship over to Malaysia for an additional $26,