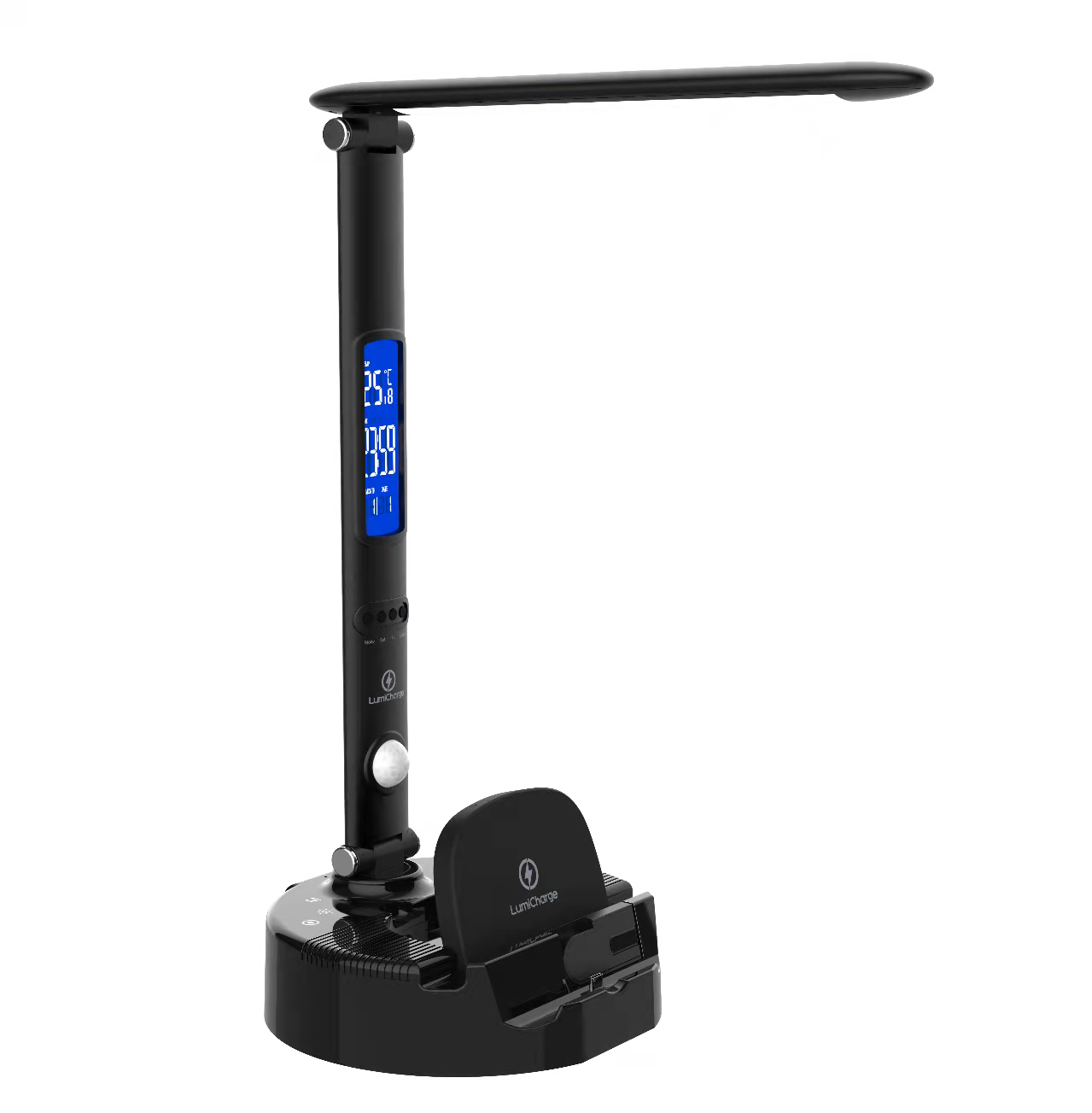 Lumicharge III -LED desk lamp with wireless charger ,Bluetooth Speaker, App-Controls
Sale price
$119.00
Regular price
$150.00
25 people are viewing this right now
Free Shipping On All Orders Above $89
Lumicharge III
Lumicharge III is the perfect addition to any workspace. With its sleek and modern design, it not only provides bright, adjustable lighting, but also has a built-in wireless charging pad for your devices. Simply place your phone or another Qi-enabled device on the base of the lamp to charge while you work. No more cluttered cords or searching for charging adapters. The lamp also features a dimmable LED light, so you can adjust the brightness to your desired level. Upgrade your workspace with the convenience and style of the Lumicharge III.
Charge Wirelessly
Convenient: No need for cords or charging adapters, simply place your device on the base of the lamp to charge wirelessly.
Sleek and modern design: This lamp not only provides bright, adjustable lighting, but also seamlessly integrates wireless charging into its design.
Versatile: Compatible with any device that supports Qi wireless charging, including smartphones, tablets and earbuds.
All Features In One App
Control the lamp's switch control using a mobile device.
Adjust the brightness of the lamp to their desired level.
Control the color temperature of the lamp, making it warmer or cooler.
In addition to lighting up your space and charging up your phones, the LumiCharge II also includes a built-in cup holder, a headphone clip, and a watch charging clip. That's some next-level versatility.
Yes, Lumicharge Patented Universal phone dock is populated with all the connectors for various phones. Just turn the dial, and choose the connector that matches your phone and dock to charge.
Most thin phone cases and covers will be able to charge on the Lumicharge Dock either wired or wirelessly; however, thicker cases may not be able to charge.
Yes, the Clock display has 3 dimmable settings to adjust to your liking.
Absolutely! No need to reset the mode or brightness level every time you turn it on. The LumiCharge III remembers your most recent light settings.