Our Blogs
The Newest Technology Meets the Most Convenient LED Desk Lamp
Jun 03, 2019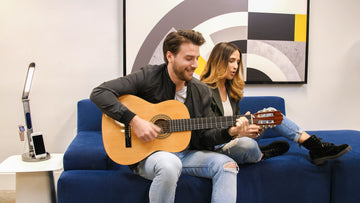 If you're in the market for a new desk lamp, you're in the right place! With the recent Indiegogo launch of the LumiCharge II, our all-in-one LED lamp and phone charger, we're thrilled to say that we have reached — and exceeded — our goal! As of right now, our product is in the production stage, with delivery anticipated later this month. Everything is in full swing and we're incredibly excited to be able to get this amazing lamp out to our backers.
Perhaps you haven't ordered yours yet. Maybe you just learned about our product. Whatever the case may be, the good news is that you still have time to place your order and take advantage of a significant discount on the LumiCharge II. Version 1.0 was a massive success, but we made the decision to keep innovating and improving our product. We conducted several rounds of research and listened to our customers about what we could do to make an already great product even better. The result is the LumiCharge II which is absolutely packed with features that you're sure to love.
But what is included, you ask? We'll be breaking it all down in today's post, so whether you're in the market for a desk lamp to use at the office or a lamp to put on your nightstand, we have you covered. Keep reading below to learn more about the LumiCharge II.
The Features You Need
Multiple Charging Options
Version 1.0 offered the ability to charge a variety of devices, including Apple products, Androids, and more. With the LumiCharge II, we have taken it a step further. You can still charge all of those devices through the use of our innovative rotating charger which swivels to allow the user to select the option that works best. Our dock even works in such a way that most phone cases will fit flawlessly, making life a little bit easier for you.
We are also excited to announce that we've added wireless Qi charging capabilities. In other words, if your phone supports it, charging your device is as easy as setting it on top of your lamp. No more cords, no matter accidental unplugging, and more more hassle. It really doesn't get much better than that!
Changeable Hues and Brightness
Some people prefer to work with a warm light illuminating their workspace; others enjoy a white light that allows them to see perfectly in order to get things done. Our LED desk lamp lets you decide what works best for you. You'll find three different hues available to you, allowing you to customize the light to suit your specific needs.
Of course, we also added multiple levels of brightness to the LumiCharge II, allowing you to change up the level of light you get throughout the day. After all, as the sun starts to set, you might prefer the light to be a bit brighter or softer for what you're working on. Changing it up on the LumiCharge II is as easy as pushing a button. How cool is that?
Smart Display
The fact that our lamp functions as a lamp and as a device charger is more than enough for most people, but like we said, we wanted to over-engineer our product, and that's why we also included a smart display feature. The display, like the lamp, is dimmable to suit your needs.
It features built in daylight savings time if you prefer, and you'll also find the time, temperature, day, and date available at a glance. That means that you don't have to pick up your phone and open an app to be in the know. It's a time saving feature that we know our users are going to get a lot of use out of.
Motion Sensing
There's nothing worse than waking up in the middle of the night to get up and having to turn on a bright light. It seems to burn your retinas and jolt your body awake, making it that much harder to fall asleep again. Luckily, we've solved that problem.
Our latest product features motion sensing capabilities, which turn on when you stand up in the middle of the night. It's not too bright, allowing you to get up without turning on the light and without stumbling over the laundry that ended up on the floor.
And More
Other features of the LumiCharge II include metallic upper and middle arms, a memory setting, front facing buttons to make setup easier, wide angle light coverage, a setting that remembers the last light you used, an iWatch attachment, and much more.
All in all, this LED desk lamp lets you declutter your workspace or your nightstand and provides you with several great features that you're sure to love.
Don't Wait to Order Your LumiCharge II
As we mentioned at the beginning of this post, you can still order your LumiCharge II through our Indiegogo campaign to enjoy a great discount! Prices will be going up shortly, so we highly recommend ordering yours today to avoid paying more later.
Everyone who has gotten their hands on our product has been absolutely thrilled with it and we think you will be too. With so many great features and benefits, the goal is to make your life a little bit easier. You can learn more over at our Indiegogo page where you can see plenty of pictures, check out our videos, read frequently asked questions, and see the latest updates. Have a question? Reach out to us. We look forward to hearing from you and we think you will love your LumiCharge II.