Our Blogs
The Desk Lamp of the Future-- By – Edward Cruz
Aug 20, 2019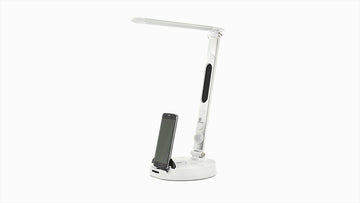 The Desk Lamp of the Future
Whether you are working or studying, your desk must be one of the most important areas inside your room. This is usually where the all-nighters happened, where the drafts are scattered, and it has probably witnessed you calling on all kinds of god to help you make it till the deadline. Or, we may be exaggerating. Your desk can also be your silent nook where you read your favorite book or just spend quiet time, thinking.
Well, regardless of the purpose it serves you, we're sure your desk is not complete without your trusty desk lamp which kept you company and enlightened. While we get how it could be hard to let go of the lamp, it is highly suggested that you do to create space for the desk lamp of the future: the LumiCharge II.
The LumiCharge II is a multi-function desk lamp that doesn't only provide you with light, but also serves as a clock, temperature gauge, a USB port charger, and a wireless charging dock. In short, it is everything you need on that desk of yours rolled into one.
Great source of light:
The purpose of LumiCharge II is to lighten up a space, and it does that great. It uses a cutting-edge design, with a multi-jointed arm that can pivot 360-degrees, and a wide-edge light head with implanted LED lights. The head itself can turn around 30-degrees. Controls on the base turn the light on and off, and you can go through three diverse light temperatures (so you can alter between a cool or warm white light), and it also has 10 brightness options.
Places close to the base of the work area light is a LED night light, around 1-inch in width. When the room is dull, the night light goes ahead when movement is detected (there is an option to turn this feature off).
Also, a great source of power:
Most desk LED lamps have a USB port in the front or back so you can connect a cell phone to keep it charged. The LumiCharge II has that, with the USB-A port situated at the back of the base. Be that as it may, it's more than just a USB port.
The top surface of the base is a Qi-empowered 10W quick remote charger. Other than this, you can also just dock your phone on the pivoting charging wheel. It is hidden beneath a plastic lid at the front edge of the base. Once you lift the lid up, you'll see connectors for a USB-C, Micro USB, and Lightning.
It has LED display:
The LumiCharge II has a LED perfectly situated at the front of the device. It shows you the date, day of the week, time, and room temperature. This is a great addition since you can easily get all these valuable details with just a glance. It can also be customized to set an alarm. A replaceable watch-type battery keeps the settings flawless when the light power is off.
If this isn't the best and note-worthy buy since smartphones, we really don't know what is.
Author – Edward Cruz is a staff writer for VIPpromocodes.com, a website that provides the latest promotional codes, exclusive sales and offers for all of the top stores in the U.S.